Mother's Day Message to Obama: Be Thankful for Today's Power Moms
New Book reveals How Influential Power Moms are Driving Sales to Companies and Fueling the US Economy to Recovery.


FOR IMMEDIATE RELEASE
PRLog (Press Release) – Apr 27, 2011 – Mother's Day is a day to show mom appreciation for all her dedication to family, but the praise she deserves goes well beyond the role of caregiver, cook or taxi driver. With Moms spending $2.4 trillion in goods and services, one of the secrets to jolting the US economy is engaging moms, especially a new category of moms called "Power Moms", to talk about products and brands on Facebook and Twitter, in the carpool line and on the playground.
As revealed in marketing to moms expert Maria Bailey's new book, Power Moms: The New Rules for Engaging Mom Influencers Who Drive Brand Choice (Wyatt-MacKenzie, May, 2011), the new type of moms called Power Moms influence fellow parents to purchase certain products and services using multiple media channels and traditional, offline communications. The key to a Power Mom's influence is the integration of these messages across platforms: a playground chat with a fellow Mom about her favorite brand gets tweeted from her smart phone or posted on Facebook during naptime.
"We think about moms and we think diapers and snacks as their major purchases. However, today's mothers are buying everything from automobiles to computers, and using their smart phones and computers to share their messages," explains Maria Bailey, author, radio host, CEO of BSM Media and mother of four. "In fact, with over 10 million mom business owners, mothers are now buying banking services and business class travel, and they love to share their opinions."
The typical Power Mom is a mother who is extensively involved in social media platforms such as Facebook or Twitter, perhaps writes and manages a blog and is active in community, school or local business groups. Bailey explains that when a mom needs advice on products or services, she turns to a Power Mom. "She's the stereotypical PTA mom of the 1980s on steroids," Bailey says, "with her sphere of influence reaching other moms across America or around the globe." In more and more instances, a Power Mom can touch millions of mothers with the message to buy one product over another or support a particular brand or service.
What does the Power Mom look like? On average, Power Moms interact and engage online via Facebook, Twitter and Text, as well as offline in parks, playgrounds and at the water cooler:
• 89% of Power Moms have recommended a product to friends and family on Facebook
• 82% of mothers have purchased a product based on a recommendation on Facebook or Twitter
• 75% of Power Moms who blog online hold a leadership role in a community group or offline organization
• On average, Moms will "Like" 3 brands a week on Facebook and recommend the brand's Facebook page to their friends
Look for Power Moms on global, national and regional stages, such as celebrities like Jennifer Hudson, a mother, singer, actress and Weight Watchers spokesperson, as well as Molly Gold and Dr. Amy Baxter. Molly Gold is a mother of 3, small business owner and founder of www.gomominc.com, guest writer for Babycenter.com, Primrose Schools, multiple magazines and a swimming and baseball team mom. Dr. Amy Baxter is an Atlanta-area physician and mother of three who invented the Buzzy 4 Shots to help children (and their parents) cope with shots at the doctor's office.
While President Obama stimulates the economy by encouraging spending, Power Moms are generating sales by blogging about their favorite washing machines and tweeting about their new vehicles. These tech-savvy women flex their influential muscle by harnessing the power and reach of social media tools while still engaging with other moms and caregivers in old-fashioned settings to deliver a company's product or brand message to peers and followers.
For more information about Power Moms and a list of these same Moms across the US, read Maria Bailey's Power Moms: The New Rules for Engaging Mom Influencers Who Drive Brand Choice (Wyatt-MacKenzie), available in May, 2011.
For more information or to schedule an interview with Maria Bailey, please contact Mary Donnellan at Mary@bsmmedia.com or 954-658-9481. Book images attached/below.
# # #
Maria T. Bailey is the foremost authority on marketing to moms. Her company, BSM Media, specializes solely in marketing to mothers. Maria is also the host of Mom Talk Radio, the first nationally syndicated radio show for moms, and co-founder of BlueSuitMom.com and MomTV.com. In addition to Power Moms, she is the author of Marketing to Moms: Getting Your Share of the Trillion Dollar Market (Random House), Trillion Dollar Moms: Marketing to a New Generation of Mothers (Random House), Mom 3.0: Marketing with Today's Mothers by Leveraging New Media & Technology (Wyatt-MacKenzie) and The Ultimate Mom (HCI). She has been featured in US News and World Report, Wall Street Journal and on CNN, and various local affiliates. Bailey is also the host of "Mom Talk Radio and co-Host of Good Day with Doug Stephan, the #7 morning drive time radio show.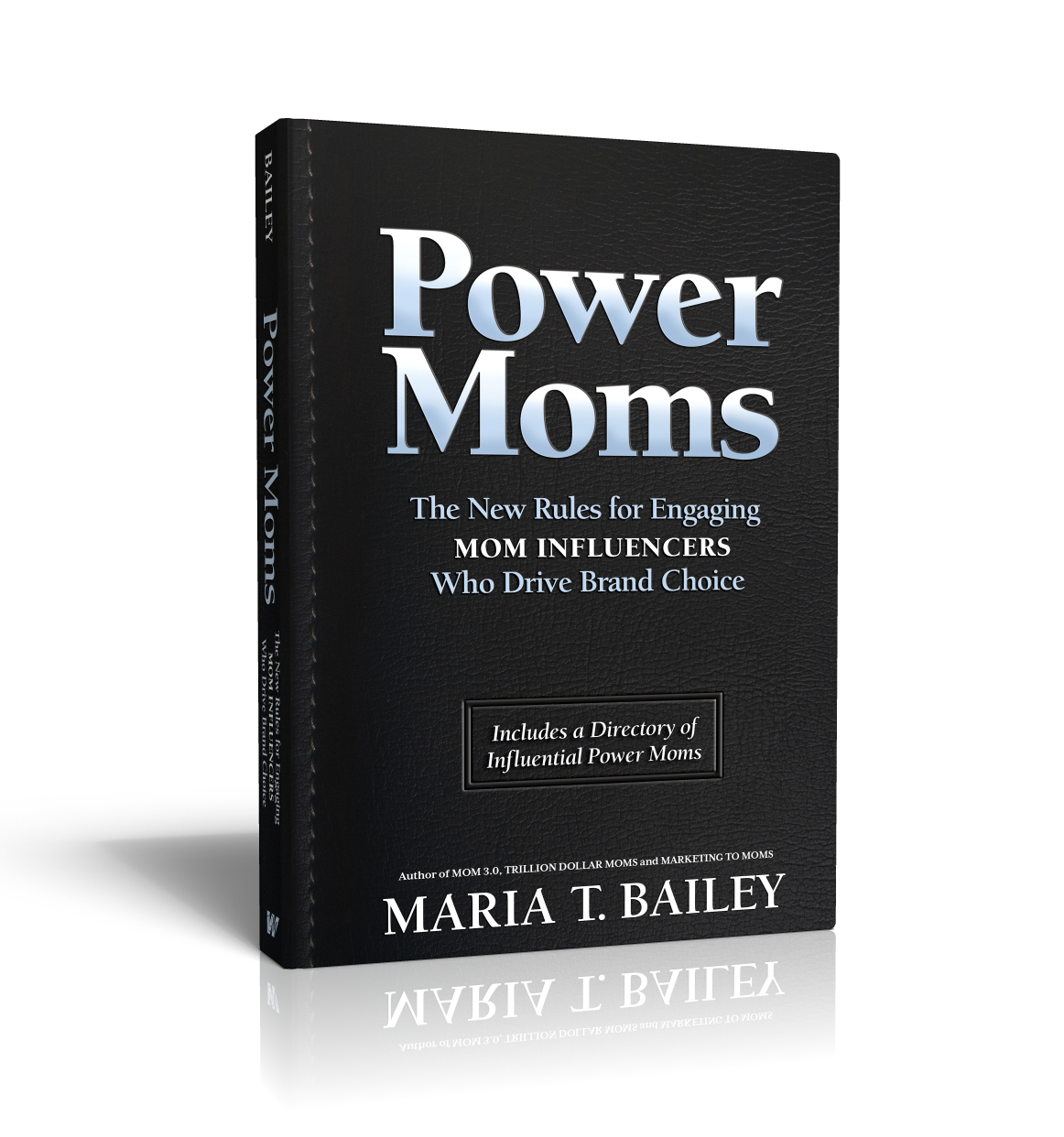 --- end ---